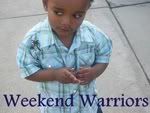 Click Here to see how it works:
There are no rules...(feel free to post an old or new post!)
this will run through the whole weekend
(Friday evening posted by 9pm PST
thru Noon Monday, PST )
so that Special Needs Families
will have time to participate..
we never know what any day is going to be like..
(you can post anything, old or new posts
you don't have to choose question)
Summertime is rough for all families.
If you are Special Needs, or your Children are,
what are some of the things you have to do
to prepare for a vacation?
When researching Special Needs Camps
always ask for Scholarship Programs!
Please link directly to your Weekend Warrior Post
(feel free to link posts with Special Needs Giveaways
and informational links, but please, no links
to ads for expensive items the average household cannot afford)
Answer to Question:
We live across the Street from the Beach so
planning isn't really necessary!
The one fun thing I am planning is
an Autism Summer Picnic!
The Autspot Foundation and I are joining forces!
If you live in California and have Family
on the Autism Spectrum...
Please join us!!
Come join

TheAutspot.com

and many other friends and families in the Autism Community at our Summer Picnic! There will be food, activities for the kids, and resources. We look forward to seeing you and your family!

Please RSVP via Phone
or Email (Subject: Autism Family Picnic).
Date: June 19th, 2010
Time: Between Noon and 3pm
Place: Bixby Park, Long Beach, CA

Jane:

562-712-5320

Autspot Profile: knottylbc
Dele:

dele@theautspot.com

Greg:

greg@theautspot.com

Time: Noon-3pm


www.theautspot.com




www.theautspotfoundation.org