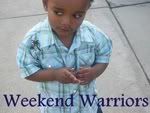 Welcome to the very first
WEEKEND WARRIORS!!!
(click home on this page for current posts)
There are no rules... this will run
through the whole weekend
(Friday evening posted by 9pm PST
thru Noon Monday, PST )
so that Special Needs Families
will have time to participate..
we never know what any day is going to be like..
~Non-Special Needs Linkers ask us a question,
email knottylbc@yahoo.com to have
your questions posted the following week...
link us, love our children, and most of all teach your children
how to befriend ours~
If you are like me and crave prompts
here are a couple suggestions pick one or use several:
Non-Special Needs
(suggestions)
Aunties, Uncles, Neighbors, OT's, ABA's & Families
Email me Three Questions that I will post next week
(ex. how do you feel about
your child riding the Short Bus),
Post a pic of your Child with
A Special Person in their Lives,
Post an interaction you had this week,
Something new you've learned, etc
Let us know One thing you will do this month
to teach your Child about Ours.
Special Needs Families
(suggestions)
Choose to Answer Questions I posted previous Week
Post how your Week/Weekend went
What are your plans this Weekend,
vent, share, love, and laugh..
you and your family are valued here!
This is not a forum stating "my way or the highway"
please be respectful, discuss your experiences only.
This is not a forum to debate.
So lets gather and share our Experiences!
(If you have Special Needs please join us too!)
********
My Weekend Warrior Moment:
This week Tafari and I played a Prank
on my Neighbor Roxanne and Scared her!
Jane's Tip of the day:
Have your Child volunteer in
a Special Needs Class at their School
********
Please link directly to your Weekend Warrior Post
(feel free to link posts with Special Needs Giveaways
and informational links, but please, no links
to ads for expensive items the average household cannot afford)