Autism Spectrum & Special Needs Entertainment!!
I have found two new things that brightened my heart and added Sunshine to my Weekend!!
State-of-the-Art Theme Park for Children With Special Needs, Opening in San Antonio, TX......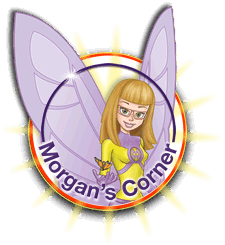 How Awesome is This?!! A Theme Park for Special Needs... Holy Freakin' Cow!! It's free for Special Needs Children and only Five Bucks Per Person!!!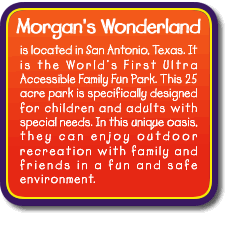 (below copied from site)
Park Facts
Morgan's Wonderland ...
Located at the former site of the Longhorn Quarry
25 acres in size, and is the first Ultra Accessible Family Fun Park in the world!
8 acre lake stocked with a variety of fish
Controlled entry and exit
Features RFID locator wristbands and touch screen display monitors so parents and caregivers can keep track of family and friends
Fencing around lake edge as well as security fencing around the park's perimeter for added safety
Activities & Amenities include:
Specially designed air conditioned/heated and oversized ADA accessible restrooms
3 Playscapes
Train Rides with wheelchair accessible cars
Ultra Accessible Carousel
Amphitheater
Catch-and-Release Fishing
Water Cannons & Remote-Controlled Boats
Gymnasium (basketball, volleyball & tennis)
Special Event Center for up to 700 guests
Walk and Roll Path around lake
"Around the World" – themed rest areas
Water Works - Water Play Area
Off-Road Adventure Ride
Music Garden
Swings (several types including wheelchair swings)
Sand Circle™
Sensory Village™
Garden Sanctuary with Memorial Wall
Several Rest Stops, Picnic Areas & Pavilions
2 First Aid Stations & Feeding Room
Braille Signage, 3-D Park Model & Service Animal Rest Area
2 Gift Shops
VIA Transit Center
Any Mom's out there in BloggyLand live in San Antonio, TX
and want a weekend visit from me and Tafari this Summer?
The Second Muse that Brightened my day
is the New NBC TV Show:
Thanks for reminding me to watch my Tivo Show's
Rebecca
!!
It's about a Family dealing with newly diagnosed Asperger's, Autism Spectrum, Single Parenthood, Marital Issues, Working Mom/Stay at Home Dad, Inter-racial Relationships, Baby-Mama Issues, etc.
All of this is wrapped in very neatly and awesomely in the first episode!!
The only thing that worries me about this show is the Critics,
ecspecially us Spectrum Mothers (we can be the worse at times)...
we just don't realize people are listening to us...
*cough cough* J-Mac and her Autism Exploitation Crew *cough cough*