Time to go to Ezra's Birthday Party!
(of course mom is oblivious to how filthy I am!)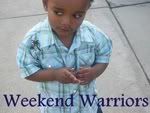 How did you initially react
to the diagnosis of your child?
I am fortunate that I am not worrying
about Dialysis and Chemo.
~taken from a previous post
PARTY TIME.. EZRA'S BDAY!!
TEAM TEZRA!