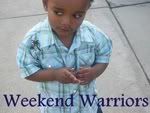 I have a busy weekend planning
So, I am posting weekend warriors early!
Hope you all have an excellent and blessed weekend!
Click Here to see how it works:
There are no rules...(feel free to post an old or new post!)
This meme is for both Special Needs and Non-Special Needs Families
Educate yourself and your children about ours
this will run through the whole weekend
(Friday evening posted by 9pm PST
thru Noon Monday, PST )
so that Special Needs Families
will have time to participate..
we never know what any day is going to be like..
This weeks Question:
Do you, your child, or family member have
SPD (sensory processing disorder) issues?
What is a day in your life like?
*Please link an old or new post,
all other special needs please link
whatever posts or pics you'd like today*
My Answer to this Weeks Question:
My Pic of the Day:
The Teachers and Aids dared me
to run through the obstacle course,
it was a big race between me and Miss Kiesha...
guess who not only lost,
but got stuck and needed assistance getting out?!!!!
(do you see Miss. Kiesha leaning over on the left,
pretending she's worried... um no,
she took off after seeing me stuck
to win the Race!!)