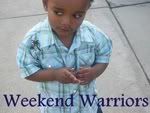 Weekend Warriors will be canceled this Week.
I am leaving to the Bay Area for an Autism Event
until Sunday Evening.
There is a new Carnival/Meme that is called Raising Awareness Thursday. I would like to thank Angel for informing me about this, as Raising Awareness is a subject that I wholeheartedly believe in.
Today's topic is about HPV. I am embarrassed to say I am quite clueless about this. I am glad that Hearts Make Families and Headaches Hormones and Hotflashes has explained it in depth today! I definitely feel more educated. If you would have asked me before I read both of their blogs if I would get my daughter Vaccinated for this Disease, I would of said Oh Hell Naw! I am very wary of Vaccinations. For several reasons, and most are due to my son's Autism. Let me start first by stating I DO NOT BELIEVE THAT VACCINES ARE THE CAUSE OF AUTISM. There I said it. So I don't need a whole bunch of freaking out comments on my blog and infighting within the Autism Community. Enough is Enough. Lets respect each others beliefs. This is not about raising Autism Awareness, the subject is HPV.
However, as a mother of an Autistic son there is no way that I cannot bring up MY son, and MY journey with Autism when a Vaccine Issue is raised. My son was verbal, waved hi and bye, ate whatever was given to him, and played with other children until a few months after a big dose of Vaccines. I took him to the doctor and he was behind in two shots. So the doctor said no problem we can do them all at once. The nurse brings in like 5 needles and some liquid for the mouth. My jaw dropped. I was like your gonna shoot up my lil boy with all that? She was like yeah he will be fine. I hesitantly said okay. I didn't go to med school, their the doctors right? She shot him up, he screamed, I cried, we left. A couple weeks later. My son was in the corner flapping his hands, completely non-verbal, refusing to eat, and drooling (thank goodness that stopped I was living a very soggy life). I definetly believe VACCINES ARE A TRIGGER. I believe Some children are born with Autism and I believe that SOME children are predispose to have Autism and there are triggers. Environmental, Diet, Vaccines, whatever the trigger may be. I also feel that Vaccines if given appropriately, mainly spaced apart and with as much information as possible are safe for most children. I have three other children who were vaccinated at appropriate times with appropriate doses that are neurotypical.
So that is my reason I am nervous about Vaccines.
With that said... after reading the above blogs, I think I'd be more nervous not to vaccinate for HPV. The Statistics are nerve wrecking. My daughter is 24 now and has her own doctors appointments and takes care of her own issues pretty much. This weekend we are doing a road trip to San Francisco, and this will definitely be a great time to bring up this topic. Thank you for Raising my Awareness.