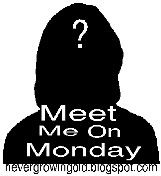 1. How many brothers and sisters do you have?
Eleven: I am the Eldest

2. What is your favorite thing to do?

3. What countries have you visited?
Spain, The Netherlands-lived in Holland for awhile, Mexico, United States, Born in Uganda
4. Are you a morning or a night person?

Morning!!!

5. What's your favorite cereal?
Grape Nuts or Granola i only eat cereal if I have a Banana to put in it, No Banana=No Cereal.
Thanks Java for a fun way to start the week!