All I remember is I got these Bad Ass White Boots! They were smoking hot!! I wore them almost everyday for the next year. I remember crying because my mum wouldn't let me wear them to bed.
I'd run around the House with my Invisible Mic singing at the top of my lungs… "I'd like to teach the World to Sing", and "Rocket Man" (I loved Elton John), and "I think I Love You"! Oh those Boots take me back! If they had them in my size now, I'd wear them with no shame and strut down the street like the 70's Princess I was!! Okay maybe not down the street, but I'd definitely where them in the house, holding my invisible Mic of course!


Here I am the Following Christmas, still rocking..........
Look how shiny I am! Those are the days when people believed Vaseline and Baby Oil was the answer to Everything!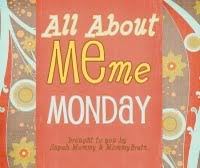 Make sure you visit
Supahmommy
to post your own, or read other Birthday Stories!