Thank you to all that helped with my 12yr olds
Bully Issues I am working on Emailing
each and Everyone of you!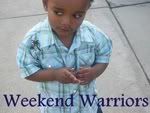 There are no rules...(feel free to post an old or new post!)
this will run through the whole weekend
(Friday evening posted by 9pm PST
thru Noon Monday, PST )
so that Special Needs Families
will have time to participate..
we never know what any day is going to be like..
~Non-Special Needs Linkers ask us a question,
email knottylbc@yahoo.com to have
your questions posted the following week...
link us, love our children, and most of all
teach your children how to befriend ours~
Non-Special Needs
(suggestions)

Aunties, Uncles, Neighbors, OT's, ABA's & Families
Email me Three Questions that I will post next week
(ex. how do you feel about your child riding the Short Bus?,
I say short bus not to poke fun, but to open up correct lingo and
take the power out of tacky words),

Post a pic of your Child with
A Special Person in their Lives,
Post an interaction you had this week,
Something new you've learned, etc
Let us know One thing you will do this month
to teach your Child about Ours.
Special Needs Persons & Families
(suggestions)

Post A Pic

Link an old post or your current post
Choose to Answer Questions

Post how your Week/Weekend went
What are your plans this Weekend,
vent, share, love, and laugh..
you and your family are valued here!

This weeks Questions:
Has your Special Needs Child ever been Bullied?
What happened and how did you respond?
Jane's tip of the day:
Mothers have as powerful an influence
over the welfare of future generations
as all other earthly causes combined.
My Post:
Tafari turns his back on Morning Schedule
Answer to Question: My Autistic son is only 3
so no Bully issues with him yet, Thank God