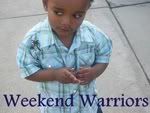 There are no rules...(feel free to post an old or new post!)
this will run through the whole weekend
(Friday evening posted by 9pm PST
thru Noon Monday, PST )
so that Special Needs Families
will have time to participate..
we never know what any day is going to be like..

~Non-Special Needs Linkers ask us a question,
email knottylbc@yahoo.com to have
your questions posted the following week...
link us, love our children, and most of all
teach your children how to befriend ours~

Non-Special Needs
(suggestions)

Aunties, Uncles, Neighbors, OT's, ABA's & Families
Email me Three Questions that I will post next week
(ex. how do you feel about your child riding the Short Bus?,
I say short bus not to poke fun, but to open up correct lingo and
take the power out of tacky words)

,

Post a pic of your Child with
A Special Person in their Lives,
Post an interaction you had this week,
Something new you've learned, etc
Let us know One thing you will do this month
to teach your Child about Ours.
Special Needs Persons & Families
(suggestions)

Post A Pic
Link an old post or your current post
Choose to Answer Questions
Post how your Week/Weekend went
What are your plans this Weekend,
vent, share, love, and laugh..
you and your family are valued here!


This is not a forum stating "my way or the highway"
please be respectful, discuss your experiences only.
This is not a forum to debate.
So lets gather and share our Experiences!
****
This weeks Questions:
Sorry no Questions this week :(
Please get your non-special needs bloggy friends to participate...
for the sake of their children as well as ours!!
(insert edit)
STOP THE PRESS....
Evonne has a question...
Having a special needs child, what do you think
are the rewards and negatives of it?
The Comedian (my daughter) swore I took her Powder Donuts....
That was the beginning of our weekend....
.
Sister gives Tafari big hugs...
And I am suppose to be the Sucker in the Family!!!!
First off I'd like to thank Evonne for seeing my post and how much it means to me and sending me an immediate question via Email...
Question of the Week:
Having an autistic child, what do you think
are the rewards and negatives of it?
Rewards: I relish the little things. He looks directly in my eyes and that is huge!! He hugs me... that is huge... he stops when I redirect him.. that's huge!! Things I took for granted with my other Children.
Negatives: Yeah I can say... Oh i love him how he is.. he is so special and I adore him, I wouldn't change anything about him... BULLSHIT!! I have at least a zillion things I'd change out of all my children and myself as well. So lets get real! The negatives for me are lack of sleep. Seriously. Picture a newborn... up every 2 to 3 hours... thats my life.. you can read more about it on pour my heart out by Shell next Wednesday. I want sleep. I need sleep. I am constantly napping when he is at school.. so nothing gets done.
Sleep is what I would change.
Janes Real Tip of The Day...
Powder Donuts = Walls still White...
Whats the Harm?
Sometimes ya gotta choose your battles