Feliz Navidad Campers-
Miss Jane has asked me to deliver a message to you. I shall seal it with a kiss and proclaim it S.W.A.K. <--- SAY IT like I do.. SSSWAWK.
I think first though.. I'll just tool around a bit on her bloggity..... see what she's got GOIN ON UP IN HERE-AH! Dangit her place is looking SMOKIN. Who did this awesomeness????
Okay.. to the point...
JANE IS HAVING TECHNICAL DIFFICULTIES......
WAIT.. That's NOT what she said.
Shoot.. what was it. ?? She's never goinna pick me again to babysit her blog huh? lol
She said something like this:
I am having some mo fo computer issues. I cannot get on the puter for my life..... I'm having withdrawals ! I will not be online until tomorrow or late evening Friday at least.! I plan to harm an internet provider sometime soon. Someone please write to me in jail.
I keed jane.. I keed.
Jane' s message:
Write your WEEKEND WARRIORS post!!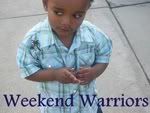 She will have a post up and link ASASC <--- as soon as she can. Saturday at the latest..
She' also says she loves and misses my sweet face and is iNTENT on paying my mortgage for me this month.
Sweet soul sistah she is huh? * sigh
COME BACK SOON JANE!
So do your Weekend Warrior
Jane will be BACK to check on you so... get ta steppin!
xoxo
supah dupah