Welcome to Yo Tweeps Twaffic Exchange CARNIVAL.
Image courtesy of
Wolverine on August 20, 2009 by Dave Mott
To play along and increase your twitter twaffic: we need to meet some new people.
1. Click on my twitter Icon above. Follow me!
2. Shout me a hello on twitter. @adoptionofjane I follow!! #yotweeps
Then I'll know you followed and I'll reciprocate. SO EASY to do this way! Especially if you use tweetdeck.
Want more tweeps?
MAKE A BLOG POST LIKE I DID.
3. Grab the YO Tweeps Button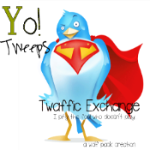 4.. Place it on your blog post.
This helps to BRAND the Exchange so that it is recognizable.
5.
Put a twitter icon / link on your blog post like I did. ( ) there are some sites listed below to get icons from
6. LInk that post that you created : below.
7. Visit some other YO Tweeps linkers on the list.
8. Follow them if you choose and shout out to them on twitter that you did so they can instantly follow you if they're on.
Example:
@adoptionofjane #yotweeps I'm following!
9. If someone follows you, reciprocate. It's that easy.
That's it!
Now head over to's
SupahMOmmy
blog to link up!
* here are some twitter icon sites
http://twittericonfactory.com/
http://www.twittericon.com/
http://www.hongkiat.com/blog/100-remarkably-beautiful-twitter-icons-and-buttons/